So, I'm back from my holiday!! I had such an amazing time it was the best week away I've ever had, I saw so many cool things and visited some awesome places. It was just the perfect mix of chilled and fun, not to mention so lovely to spend quality time with my boyfriend...x
In this post, I am wearing a dress by my new found favorite website 'Tinned Bananas'. If you have not been on there yet I suggest you do! The clothes are actually sick, I havent seen any website do something in their style quite like their clothes are. I started off by ordering one item which is a dress I immediately had to have for my holzzz to test out quality and whether it was true to size and all that jazz.. and the final result couldn't have been better. When the dress arrived I even got a personalized note! So sweet! This really showed me it was a small fun brand with a big idea and exciting concept with its branding/packaging/logo looking to move up and it definitely will PLUS all the clothes are born and bred in the UK!
'Tinned Bananas' ethos stands as - '' set yourself free and express your true personality ''. I think that is so beautiful and adapts to everyone via the world of fashion. Obviously, I could ramble on about everyone's style and personality creating a nice melange together but that would take way too long and I really need to unpack.
So guys, really get on the website NOOOW, they are doing some really cheap sales and I'm finding it so hard as I already want everything!
This dress really caught my attention as I love mesh type tops and tees. I needed a stylish dress for the beach and it was perfect to throw over a bikini you want to show off without being too self concious. Another aspect I love is the deep V back, it adds a bit of something something to the dress - and me having absolutely no boobs - loves a good backless dress ;). At first I thought the black one was most practical but then I gave second thoughts and I realized its Summer. Anyway, have a look at the photos and tell me what you think - I even added a personal one of me at Nikki Beach in Marbella to show you how it looked without a camera.
Thank you TINNED BANANAS! I LOVE you and your clothes!!!!!!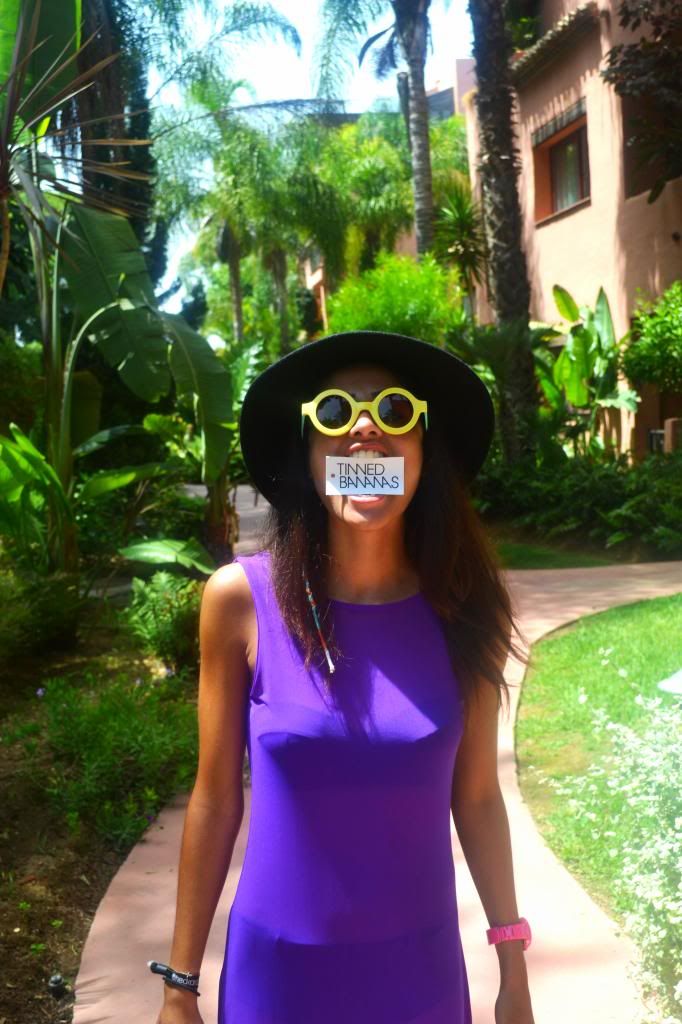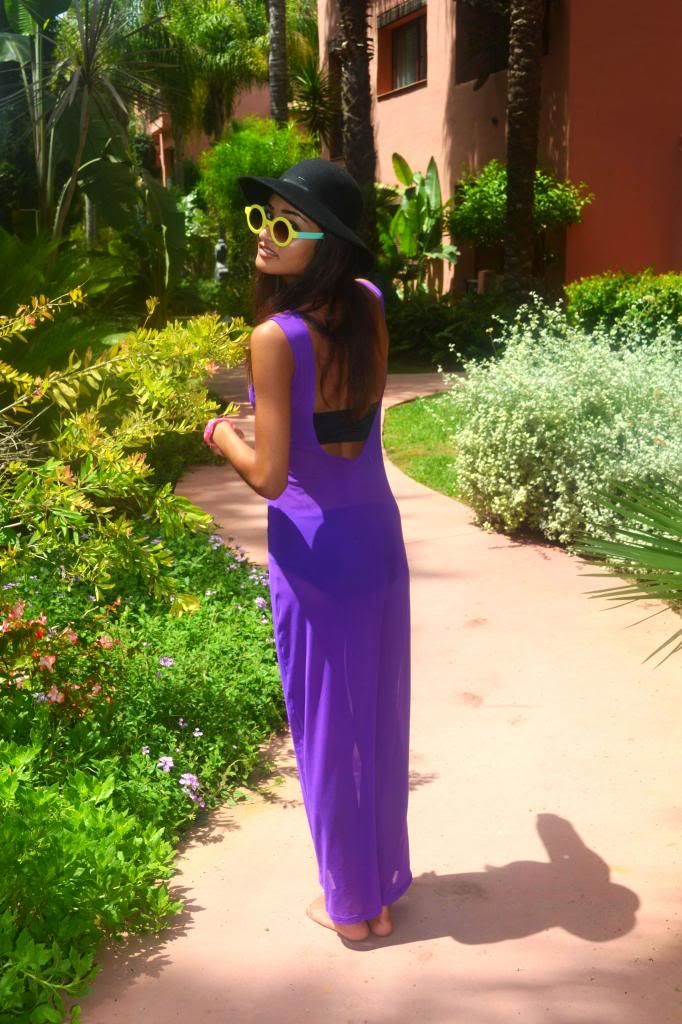 I am also styling,
No Shoes..aha
Purple Mesh Maxi Dress - Tinned Bananas <3
Black High Waisted Bikini Bottoms - MotelRocks
Black Bandeau Bikini Top - Topshop
Yellow&Green Retro Sunglasses Nasty Gal
Black Floppy Felt Hat - Topshop
Hope you liked the outfit post and look forward to many more! Love the Support the blog is getting <3